Case Study: Innovative Dance Studio
Re-designing the website and developing a marketing strategy
Branding, Illustration, Marketing, Social Media, Image Editing
+
Innovative Dance Studio (inside)
Working with small businessess,
the objective of the FutureProof program
is to help get small businessess up and running online to keep their clients and revenue during the
COVID-19 pandemic.
The project details for this client;
Innovative Dance Studio
(Kitchener, Ontario), was to help make the owner's website more appealing to reach a wider audience and gain more students. We created a plan to figure out a way that she can keep her revenue stream if we were pushed back to phase 2 of lockdown and her studio was temporaryly closed.
After our initial consultation with the client, it was decided she wanted to do a Instragram contest to promote her business. Celebrating her 10th anniversary, we would giveaway items / memberships.


My transformation team and I developed an action plan for the IG contest and sent it off for her approval. The contest would last for 10 days while we monitored the process.


The first day we posted the "Contest! #innovativedance10", monitored it until the 5th day where we posted "5 Days Left!". Then finally, "Last Chance" video was created by our UX/UI designer and posted to her account to boost awareness and follower count.


We created the bulk of the posts for IG using Canva so our client always has access to it and has the ability to learn the program herself if she ever chooses to.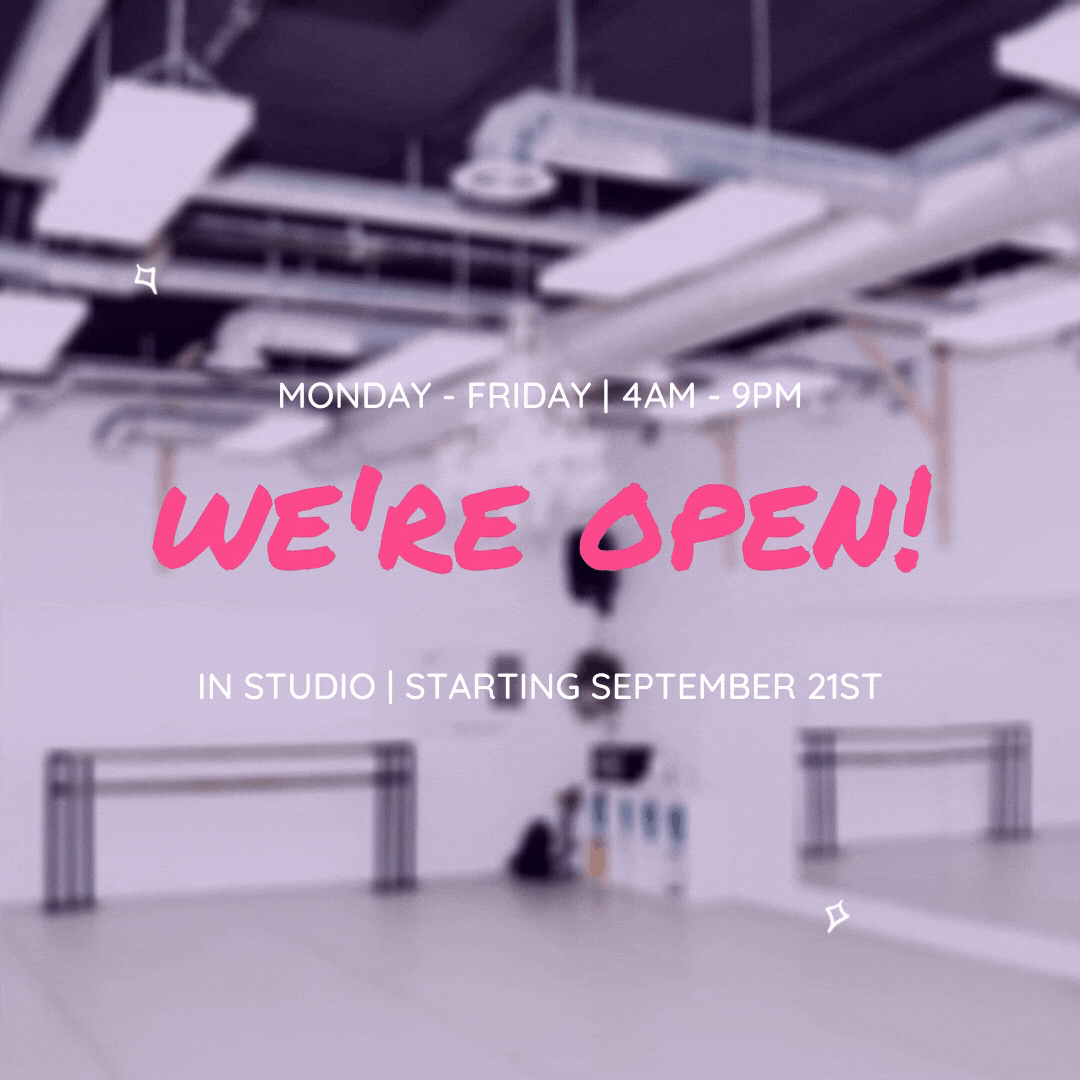 This contest showed promise and attracted more follower's to the account and more customer engagement. Additionally we created a
"We're Open!" IG post to promote the owner's (Miss Care) excitement of reopening after being closed due to the pandemic. After this, we kept promoting the IG contest for the next 10 days as planned.

The contest ended and Miss Care's IG follower count rose above expectations!
Thus began our next phase of the project: The Contingency Plan!

---
Contingency Plan: Dance With Care
An online subcription + a dance kit box that will be sent out to her customers / students if they're closed or returned to Phase 2.
Logo design, Stickers, 'Thank you!' cards, Website re-design
Adobe: Illustrator, InDesign, Photoshop. iPad: Procreate
For the next stage of the project, my transformation team and I came up a plan to boost Miss Care's revenue steam by introducing an online membership project to entice her audience sign-up with the option of learning to dance safely and correctly at home! Included in this membership are online tutorial videos, live sessions and a dance kit box called "
Dance With Care
" or
DWC
for short.
I was in charge of designing a logo for the dance kit box while keeping their current brand asethetics in mind. Using the font "Lakeshore" I created their logo to be fun and unique. This way, the logo is inclusive to all style of dance, not just one form. The style of the logo, with a handwritten and sketchy font, resembles the studio's current logo but mordernized. The logo will be printed as a sticker and put on the top of the box for the customers to see.
This logo is also a main feature on the new page we created on her site to sell her new online membership. The "
Online Classes
" page promotes and explains her new subcription and dance kit boxes.
Created using Adobe Illustrator.
For the content and design of the dance kit boxes, I proposed two options for Miss Care:

1) Fun and Exiting,
2) Elegant and Pretty.

I provided moodboards for both. Miss Care ended up chooding Elegant and Pretty because it matches her target audience (younger girls) the most. She really loved the illustration style and fonts, so we carried on with this style for the dance kit box.
Thank you card
Finally, as the garnish on top, I created a "thank you!" card to go on top of everything Miss Care decides to place in her dance kit boxes. Whether it's a yoga matt, ballet shoes, scented candles or more, this personalized thank you note will show the customer how much Miss Care appreciates their purchase and how much she values them!
Using the "gladiolus" font from the moodboard and her chosen artist style, this card reflects the elegance and gracefulness of the dance world. The simplistic and minimal design makes the message and headlines pop to emphasis their importance.
Created using Adobe Illustrator.
---
Final Notes:
What was gained?
Thanks to the FutureProof program, Miss Care achieved all her goals for setting up her business in the online realm. She is now equiped with all the knowledge to know how to keep her business up and running online and will be ready if she has to close because we shifted back to Phase 2 of the pandemic.
With our assisstance, we were able to optimize her website for better user experience and add that little flare to her pre-exsisting brand to help her reach more customers in the future as well as sell more of her products!